Bog Plants: Water Clover – Quad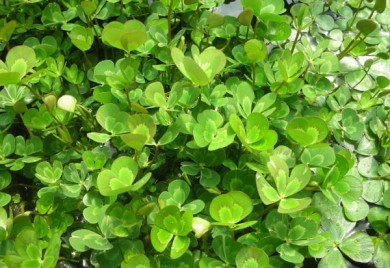 Water Clover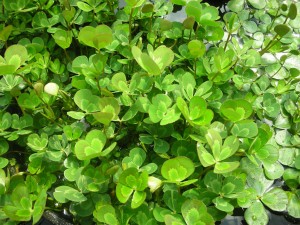 WATER CLOVER- QUAD
Water Clover (Marsilea Quadrifolia)
Marsilea Mutica is a four leaf water clover cultivar. Four Leaf Clovers are classified as an amphibious plant. In water gardening this banded nardoo is a perennial herb.
Four leaf clover can be planted in a small pot and left on the water gardening shelf. Doing this in three to four inches of water will add an interesting visual display. Water clover will survive this way to a temperature low of 20 º Fahrenheit or -6.67 º Celsius.
Water Clover is a good form of shade for the fish you are gardening for. This is because it floats above the surface tension like pond lilies.
Four leaf clover-marsilea Mutica-banded nardoo float above algae starving algae out of sunlight. Water clover beats algae to nutrients since it has a more efficient system to absorb nutrients.


Areas we serve and more: (Bog Plants for Ponds)
Agoura Hills

Altadena

Arcadia

Bel-Air

Bellflower

Beverly hills

Calabasas

Encino

Glendale

Hollywood
Hollywood Hills

La canada

La Crescenta

La Cresenta

Lancaster

Los Angeles

Malibu

Manhatten Beach

Montrose

North Hollywood
Paramount

Pasadena

Porter Ranch

San Fernando

San Marino

Santa Clarita

Santa Monica

Sherman Oaks

Simi Valley

South Pasadena
Studio City

Sun Valley

Sunland

Sylmar

Torrace

Ventura

West Hills

West Hollywood

Westlake village

Woodland Hills
Sunland Water Gardens – Your Pond Supplier since 1965.
A leader in Aquatic Plants – A Grower of Bog Plants for Ponds!
Contact the pond experts today at 818-353-5131.
Sunland Water Gardens
Bog Plants - Bog Plants for Ponds - Pond Supplies - Aquatic Plants - Aquatic Supplies
9948 Sunland Blvd
Sunland
,
CA
91040
(818) 353-5131