Who we are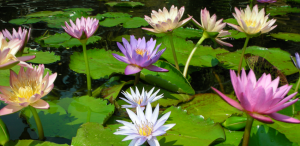 Our history
1943 – In 1943 Amos Ikenberry, a teacher in Burbank, CA, decided to make a long time dream come true. He purchased a 20 acre parcel of land on Sunland Boulevard, a windy two lane road, in an area of Sunland known as Shadow Hills. Read the whole story here: History of Sunland Water Gardens
1990 – with three children and the end of her marriage Jacklyn began to run the business solo. With this came changes to Sunland Water Gardens. More pond building, wholesale to other nurseries, and pond maintenance. Soon more help was needed. Jacklyn's little brother Jeff joined in as well as her children to lend a hand. Truly all in the family…
1995 – Adding to our Wholesale accounts – Green arrow / Green thumb and Orchard Supply Hardware.. Wholesale became a big part of Sunland Water Gardens. Added more employees as well. Many of which have gone on to have their own successful aquatic business'
2009 – Become the official Los Angeles sanctuary for the preservation of water turtles, Protecting, saving and finding homes for thousands of turtles each year.
2010 – Aquaponics comes to Sunland Water Gardens. Starting with little floating islands of herbs at first. Progressing to full Aquaponic tables with lower tubs of Talapia. Growing fresh organic veggies like tomatoes, cucumber, zucchini, corn, lettuce and strawberries. Growing fresh healthy organic Talapia on the bottom.
2013 – Now we are the premier aquatic grower in California suppling quality pond plants like waterlilies, bog plants and Lotus specializing in hard to find aquatics. We import Koi, goldfish,frogs, and many other pond critters weekly. We are distributors for the top pond supply companies in the world. Always looking for the best quality products for our customers and fellow pond and water gardeners.
OFFICIAL POND TALK BLOG
(from the blog coming soon)
Professional
Pond Services

Our team – The Pond Experts
Jeff has been the manager & backbone of Sunland Water Gardens for over twenty years.