Bog plants: King Tut Papyrus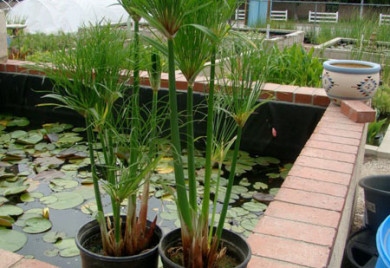 Bog plants: King Tut Papyrus
This Papyrus has quickly become one of our our favorite pond plants. It is such a nice combination of the giant papyrus and dwarf papyrus . It looks like the Giant but only gets about 36″- 40 tall. Large heads of pendulous leaves; greenish flower spikelets can measure 1′ across.
This aquatic plant is very heat tolerant.
Height Category:  Medium
Garden Height:    36 – 40 Inches
Bloom Time:  Grown for Foliage
Maintenance Notes:   Cyperus Papyrus is not hardy enough to survive winters with freezing temperatures and it is  a candidate to overwinter inside. It is a very fast grower and  will quickly grow to impressive size when replanted in the spring.
The plant can be planted in pots, along the waters edge of a pond as well as your Koi pond. The crown of the plant should never be covered in water and in fact both of these varieties can thrive in water as shallow as a few inches. The purpose is to keep the bulk of the soil or root mass wet.  The root ball can be submerged but it isn't necessary. If the plant is put into a pot I would suggest plugging the hole or holes in the bottom of the pot to  keep as much water as possible in the pot.
King Tut will also do well when planted in normal garden beds. It is best to keep the soil moist, but once established King Tut has proven to be surprisingly tolerant of dry conditions.
King Tut is an evergreen or neutral grass. Where temperatures get colder than 35 degrees F, the plants should be treated as annuals. Once the grass turns brown it can either be removed immediately or removed in the spring. It should not be expected to live through the winter and begin growing again in the spring.
In areas where winter temperatures remain above 35 degrees it should be considered a perennial and the following information should be useful.
Evergreen or neutral grasses are usually plants that look like grasses but aren't actually classified as grasses, they are generally called grass-like plants.
Divide evergreen or neutral grasses and grass-like plants in spring only.  Evergreen grasses don't ever go dormant. Dividing plants wounds them to some degree. For evergreen grasses this wounding will really affect their ability to live through the winter.

If you have any questions about other Aquatic Plants, Water Lilies, Bog Plants for ponds or have questions about getting the right Bog Plant for your pond, please visit our full service Pond Supply and Pond Plants store or call Sunland Water Gardens @ 818-353-5131
Areas we serve and more:
(Bog Plants for Sale / Bog Plants For Ponds)
Acton, CA

Agoura Hills, CA

Altadena, CA

Arcadia, CA

Bel Air, CA

Bellflower, CA

Beverly hills, CA

Calabasas, CA

Canoga Park, CA

Century City, CA

Chatsworth, CA

East Los Angeles

Encino, CA
Glendale, CA

Granada hills, CA

Hollywood Hills, CA

Hollywood, CA

La canada, CA

La Crescenta, CA

Lancaster, CA

Los Angeles County

Los Angeles, CA

Malibu, CA

Manhattan Beach, CA

Montrose, CA

North Hollywood, CA
North Los Angeles

Paramount, CA

Pasadena, CA

Porter Ranch, CA

Reseda, CA

San Fernando Valley

San Fernando, CA

San Marino, CA

Santa Clarita, CA

Santa Monica, CA

Sherman Oaks, CA

Simi Valley, CA

South Los Angeles
South Pasadena, CA

Studio City, CA

Sun Valley, CA

Sunland, CA

Sylmar, CA

Thousand Oaks, CA

Toluca Lake, CA

Torrance, CA

Ventura, CA

West Hills, CA

West Hollywood, CA

West Los Angeles

Westlake Village, CA

Woodland Hills, CA


Sunland Water Gardens
Bog Plants - Bog Plants for Ponds - Pond Supplies - Aquatic Plants - Aquatic Supplies
9948 Sunland Blvd
Sunland
,
CA
91040
(818) 353-5131
Sunland Water Gardens – Your Pond Supplier since 1965.
A leader in Aquatic Plants – A Grower of Bog Plants for Ponds!
Contact the pond experts today at (818) 353-5131.
Aquatic Plants / Bog Plants For Sale / King Tut Papyrus
Bog plants: King Tut Papyrus