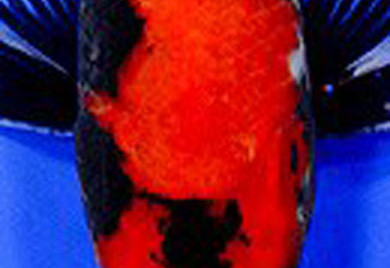 Koi
Showa Sanshoku
Showa Sanshoku, more commonly known as Showa, are koi that display white and red/orange patterns over top of a black base color. Showa can be easily confused with Sanke. In Showa, the black patterns will wrap all the way around the body, instead of appearing only on the top half of the body. Also, Showa will have black patterns on the head, and Sanke will not. Typically if the first color on the head is black then it is most likely a Showa and not a Sanke.
The red, white and black should be balanced about the body evenly, with crisp, clean edges between each color.
The Showa Sanshoku , developed in the 1930's, features white and red markings against a jet black base. The sumi (black) is the basis for appreciation of this variety, forming a strong background against which the white and red markings interweave in interesting patterns. Showa that have comparatively more white than black are called Kindai (modern) Showa.
Variations of Showa include Tancho Showa, Maruten Showa, Gin Rin Showa, Doitsu Showa and Kin Showa.
If you have any questions about Showa koi please call
Sunland Water Gardens @ (818) 353-5131


KOI Type: Koi: Showa Sanshoku
Pond Supply/Pond Fish: KOI Fish For Ponds
Source: Sunland Water Gardens
Author: Jacklyn Rodman
Also See: Pond Fish; KOI

Areas we serve and more: (KOI Fish For Sale)
Agoura Hills

Altadena

Arcadia

Bel-Air

Bellflower

Beverly hills

Calabasas

Encino

Glendale

Hollywood
Hollywood Hills

La canada

La Crescenta

Lancaster

Los Angeles

Los Angeles County

Malibu

Manhattan Beach

Montrose

North Hollywood
Paramount

Pasadena

Porter Ranch

San Fernando

San Marino

Santa Clarita

Santa Monica

Sherman Oaks

Simi Valley

South Pasadena
Studio City

Sun Valley

Sunland

Sylmar

Thousand Oaks

Torrance

Ventura

West Hills

West Hollywood

Westlake village

Woodland Hills
Sunland Water Gardens – Your Pond Supplier since 1965.
A leader in Pond Fish – A Leading Supplier of KOI For Ponds!
Contact the pond experts today at (818) 353-5131.
Sunland Water Gardens
Pond Supply - Pond Fish - KOI - KOI For Ponds - KOI Fish For Sale
9948 Sunland Blvd
Sunland
,
CA
91040
(818) 353-5131
Filed under: 
Koi Fish For Sale
Koi: Showa Sanshoku