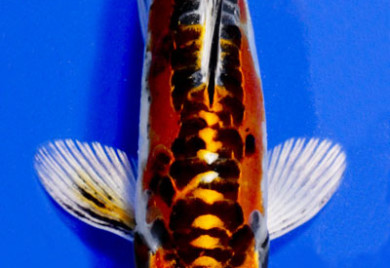 Koi
Kin Kikokuryu
If you are looking for a unique Koi for your pond this one would be a great choice.  Kin Kikokuryu combine orange or yellow with the black and white patterns of Kikokuryu to form the newest variety of koi in the industry. Typically Scaleless except for rows of black  Diotsu Or German scales across the top of the Koi.
Koi  can grow to over 6 feet but usually grow to the size of their environment. Be aware of this point when choosing a Koi for your pond. Make sure you have enough for them to grow. Aquariums or small ponds is not a good environment for Koi. Make sure your Koi pond always has a pump and filter running at all times. Remember this is not a swimming pool. Pond fish, Koi and bacteria (keeping  your pond happy and healthy) all need oxygen to balance properly.
If you have any questions about Koi or Koi for sale please call
Sunland Water Gardens @ (818) 353-5131


KOI Type: Koi: Kin Kikokuryu
Pond Supply/Pond Fish: KOI Fish For Ponds
Source: Sunland Water Gardens
Author: Jacklyn Rodman
Also See: Pond Fish; KOI

Areas we serve and more: (KOI Fish For Sale)
Agoura Hills

Altadena

Arcadia

Bel-Air

Bellflower

Beverly hills

Calabasas

Encino

Glendale

Hollywood
Hollywood Hills

La Canada

La Crescenta

Lancaster

Los Angeles

Los Angeles County

Malibu

Manhattan Beach

Montrose

North Hollywood
Paramount

Pasadena

Porter Ranch

San Fernando

San Marino

Santa Clarita

Santa Monica

Sherman Oaks

Simi Valley

South Pasadena
Studio City

Sun Valley

Sunland

Sylmar

Thousand Oaks

Torrance

Ventura

West Hills

West Hollywood

Westlake village

Woodland Hills
Sunland Water Gardens – Your Pond Supplier since 1965.
A leader in Pond Fish – A Leading Supplier of KOI For Ponds!
Contact the pond experts today at (818) 353-5131.
Sunland Water Gardens
Pond Supply - Pond Fish - KOI - KOI For Ponds - KOI Fish For Sale
9948 Sunland Blvd
Sunland
,
CA
91040
(818) 353-5131
Filed under: 
Koi Fish For Sale
Koi: Kin Kikokuryu