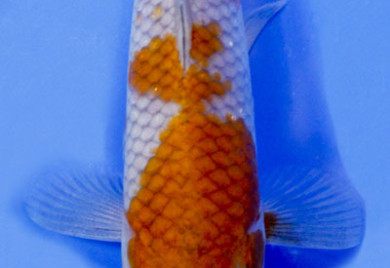 Koi
Ochiba Shigure
Ochiba Shigure, commonly referred to as Ochiba, combine the brown/bronze of Chagoi with the silver/grey of Soragoi. The name Ochiba Shigure translates in Japanese  as "autumn leaves falling on water", a reference to the silver and bronze pattern.
A relative newcomer on the koi scene, having been around only since about the mid-90s, the Ochiba is actually a cross between a gray Soragoi and a golden brown chagoi. These two ancestors have a reputation of being the friendliest of koi, and the Ochiba has happily inherited that trait. Many hobbyists will have one of these types koi in their collection for the purpose of encouraging other, shyer koi to "come out of their shells" and be more sociable. They will be the first to come up to greet you as you approach your pond, and will readily eat from your hand.
For show purposes, they are usually grouped with the "kawarimono" class, which is a catch-all for many of the lesser-known varieties. However, due to their increasing popularity, some shows have a special award for best Ochiba. There are many newer types of Ochiba as well, including a scale-less Doitsu Ochiba, a sparkling ginrin Ochiba, and most recently a metallic doitsu ochiba. Another sub-variety has been a cross between a red and white Kohaku and an Ochiba, giving an attractive gray and red patterned koi.
If you want a friendly new addition to your pond, and you enjoy the understated softness of earth tones that remind one of the colors of fall, Ochiba Shigure might be your koi.
Variations of Ochiba include Gin Rin Ochiba and Doitsu Ochiba.
If you have any questions about Ochiba Koi  or Koi for sale please call Sunland Water Gardens @ (818) 353-5131


KOI Type: Koi: Ochiba Shigure
Pond Supply/Pond Fish: KOI Fish For Ponds
Source: Sunland Water Gardens
Author: Jacklyn Rodman
Also See: Pond Fish; KOI

Areas we serve and more: (KOI Fish For Sale)
Agoura Hills

Altadena

Arcadia

Bel-Air

Bellflower

Beverly hills

Calabasas

Encino

Glendale

Hollywood
Hollywood Hills

La canada

La Crescenta

Lancaster

Los Angeles

Los Angeles County

Malibu

Manhattan Beach

Montrose

North Hollywood
Paramount

Pasadena

Porter Ranch

San Fernando

San Marino

Santa Clarita

Santa Monica

Sherman Oaks

Simi Valley

South Pasadena
Studio City

Sun Valley

Sunland

Sylmar

Thousand Oaks

Torrance

Ventura

West Hills

West Hollywood

Westlake village

Woodland Hills
Sunland Water Gardens – Your Pond Supplier since 1965.
A leader in Pond Fish – A Leading Supplier of KOI For Ponds!
Contact the pond experts today at (818) 353-5131.
Sunland Water Gardens
Pond Supply - Pond Fish - KOI - KOI For Ponds - KOI Fish For Sale
9948 Sunland Blvd
Sunland
,
CA
91040
(818) 353-5131
Filed under: 
Koi Fish For Sale
Koi: Ochiba Shigure