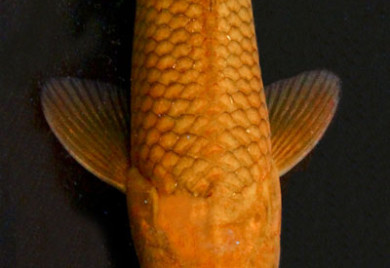 Koi
Chagoi
Chagoi are solid colored brown or bronze koi with a subtle reticulated net pattern. Although they are not nearly as flashy or colorful as other types of koi, Chagoi are still a welcome addition to koi ponds. Because of their close genetic relationship with wild carp, Chagoi are some of the friendliest and most docile koi available. This makes them the easiest to train to hand feed, and other varieties of koi may follow suit when they see a Chagoi hand feeding.
First, let us consider Chagoi. They were first produced in the Taisho Era ( 1912 – 1926), it is a dull brown or greenish brown all over with prominent scales, not all that different from the common Black Carp (Magoi). It grows extremely quickly, and it has a disposition to grow to a large size. Kataoka Masanaga, the author of the earliest data we have regarding Nishikigoi, surmised that Chagoi was a mix of Asagi, Black Carp and Doitsu-goi.  At one time we did also see many dull brown Chagoi, but in recent times Chagoi are bred with Black Carp in an attempt to produce Chagoi that are even bigger in size. Nowadays they can grow to be larger than 4 feet and seem to have a monopoly on the Jumbo prizes; but the coloring has grown lighter, and is now closer to that of the Black Carp.
If you have any questions about Chagoi Koi or Koi for sale please call Sunland Water Gardens @ (818) 353-5131
Variations of Chagoi include Gin Rin Chagoi and Doitsu Chagoi.


KOI Type: Koi: Chagoi
Pond Supply/Pond Fish: KOI Fish For Ponds
Source: Sunland Water Gardens
Author: Jacklyn Rodman
Also See: Pond Fish; KOI

Areas we serve and more: (KOI Fish For Sale)
Agoura Hills

Altadena

Arcadia

Bel-Air

Bellflower

Beverly hills

Calabasas

Encino

Glendale

Hollywood
Hollywood Hills

La canada

La Crescenta

Lancaster

Los Angeles

Los Angeles County

Malibu

Manhattan Beach

Montrose

North Hollywood
Paramount

Pasadena

Porter Ranch

San Fernando

San Marino

Santa Clarita

Santa Monica

Sherman Oaks

Simi Valley

South Pasadena
Studio City

Sun Valley

Sunland

Sylmar

Thousand Oaks

Torrance

Ventura

West Hills

West Hollywood

Westlake village

Woodland Hills
Sunland Water Gardens – Your Pond Supplier since 1965.
A leader in Pond Fish – A Leading Supplier of KOI For Ponds!
Contact the pond experts today at (818) 353-5131.
Sunland Water Gardens
Pond Supply - Pond Fish - KOI - KOI For Ponds - KOI Fish For Sale
9948 Sunland Blvd
Sunland
,
CA
91040
(818) 353-5131
Filed under: 
Koi Fish For Sale
Koi: Chagoi