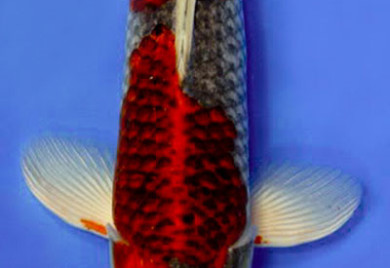 Koi
Goshiki
Goshiki are koi with a solid white base with black and blue edging, and red and black patterns overlaying the white, black and blue colors of the base. Goshiki in Japanese translates as "five colors". The five colors are black, gray, blue, white, and red.
To many including myself this is a favorite in many ponds. It is a very interesting colored Koi.  Goshiki are black based non-metallic koi with a red dorsal pattern and usually having a matsuba (mesh) like scale ornamentation on white, gray or black skin. While there is some debate over the origin of Goshiki most references indicate that the first Goshiki were called "Asagi Goshiki"and were first produced in 1918 or 1919 by crossing a asagi with an sanke. Later breeding with Kohakus gave it a richer white background .
Variations of Goshiki include Gin Rin Goshiki and Tancho Goshiki
If you have any questions about Goshiki Koi or Koi for sale please call Sunland Water Gardens @ (818) 353-5131


KOI Type: Koi: Goshiki
Pond Supply/Pond Fish: KOI Fish For Ponds
Source: Sunland Water Gardens
Author: Jacklyn Rodman
Also See: Pond Fish; KOI

Areas we serve and more: (KOI Fish For Sale)
Agoura Hills

Altadena

Arcadia

Bel-Air

Bellflower

Beverly hills

Calabasas

Encino

Glendale

Hollywood
Hollywood Hills

La canada

La Crescenta

Lancaster

Los Angeles

Los Angeles County

Malibu

Manhattan Beach

Montrose

North Hollywood
Paramount

Pasadena

Porter Ranch

San Fernando

San Marino

Santa Clarita

Santa Monica

Sherman Oaks

Simi Valley

South Pasadena
Studio City

Sun Valley

Sunland

Sylmar

Thousand Oaks

Torrance

Ventura

West Hills

West Hollywood

Westlake village

Woodland Hills
Sunland Water Gardens – Your Pond Supplier since 1965.
A leader in Pond Fish – A Leading Supplier of KOI For Ponds!
Contact the pond experts today at (818) 353-5131.
Sunland Water Gardens
Pond Supply - Pond Fish - KOI - KOI For Ponds - KOI Fish For Sale
9948 Sunland Blvd
Sunland
,
CA
91040
(818) 353-5131
Filed under: 
Koi Fish For Sale
Koi: Goshiki