Aquatic pond plants: White Lotus: Alba Grandiflora Water Lotus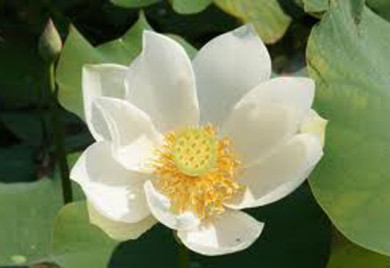 Aquatic pond plants: White Lotus:
Alba Grandiflora Water Lotus
ALBA GRANDIFLORA  –  Alba Grandiflora is also known as Asiatic. This lotus has single white blooms and under ideal conditions grows 5-6 feet.
Blooms can reach 6-7 inches in diameter.
Lotus are a wonderful addition to any Koi pond or fish pond. They are a good choice especially if you have large Koi that nibble on your Hardy water lilies or Tropical water lilies.
Lotus Plant Care:
The Lotus plant should be fertilized sparingly for the first year.
Too much fertilizer may cause the Lotus foliage to burn.
A Lotus plant that is established can be fed every 3 or 4 weeks during the growing season.
Care must be taken when inserting fertilizer tabs, because the growing tip and new growth can be damaged.
It is important to protect the Lotus roots from freezing.
Lotus can winter over in the pond if the pond depth is below the freeze line for your area.
In late fall, the yellowed foliage should be cut off and the plant lowered to the deepest part of the pond.
Or you may lift the tubers after the plant has died back during the fall.
If you lift the tubers, store them in a cool, frost-free location until late spring.
To help prevent mildew and rotting, store them in living sphagnum moss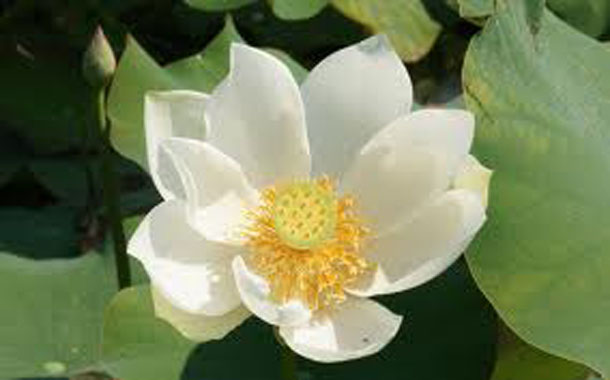 If you have any questions about other Aquatic Plants, Water Lilies, Lotus Plants for ponds or have questions about getting the right Lotus Plant for your pond with the perfect Lotus Flower, please visit our full service Pond Supply and Pond Plants store or call Sunland Water Gardens @ 818-353-5131
Areas we serve and more:
(Lotus Plants for Ponds)
Acton, CA

Agoura Hills, CA

Altadena, CA

Arcadia, CA

Bel Air, CA

Bellflower, CA

Beverly hills, CA

Calabasas, CA

Canoga Park, CA

Century City, CA

Chatsworth, CA

East Los Angeles

Encino, CA
Glendale, CA

Granada hills, CA

Hollywood Hills, CA

Hollywood, CA

La canada, CA

La Crescenta, CA

Lancaster, CA

Los Angeles County

Los Angeles, CA

Malibu, CA

Manhattan Beach, CA

Montrose, CA

North Hollywood, CA
North Los Angeles

Paramount, CA

Pasadena, CA

Porter Ranch, CA

Reseda, CA

San Fernando Valley

San Fernando, CA

San Marino, CA

Santa Clarita, CA

Santa Monica, CA

Sherman Oaks, CA

Simi Valley, CA

South Los Angeles
South Pasadena, CA

Studio City, CA

Sun Valley, CA

Sunland, CA

Sylmar, CA

Thousand Oaks, CA

Toluca Lake, CA

Torrance, CA

Ventura, CA

West Hills, CA

West Hollywood, CA

West Los Angeles

Westlake Village, CA

Woodland Hills, CA


Sunland Water Gardens
Aquatic Plants - Lotus Plants - Lotus Flower - Pond Supplies
9948 Sunland Blvd
Sunland
,
CA
91040
(818) 353-5131
Sunland Water Gardens – Your Pond Supplier since 1965.
A leader in Pond Plants – A Grower of Lotus Plants  for Ponds!
Contact the pond Aquatic Plants experts today at (818) 353-5131.
Aquatic Plants / Lotus Plants / Lotus Flower
Aquatic pond plants: White Lotus: Alba Grandiflora Water Lotus