Aquatic Plants: White Lotus: Yulou Renzui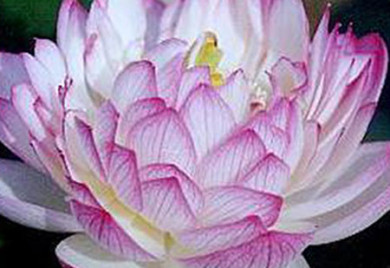 Aquatic Plants: White Lotus
Yulou Renzui
Yulou Renzui is another beautiful traveler from China. This stunning White Lotus with dark pink tips is a great addition to any Koi pond or water garden.
White Lotus are originally from Egypt  (Nymphaea lotus) and is austere and beautiful in its simplicity.  Also known as the Tiger Lotus or Egyptian White Water Lily, this plant grows in various parts  of East Africa and Southeast Asia. It has rounded petals and tooth-edged leaves, grows in shallow waters.
The white lotus flower is unique in that it flowers and bears fruit at the same time. The cup-shaped flowers were often seen in ancient Egyptian art and architecture.
Hardy in 5-11 zones

If you have any questions about other Aquatic Plants, Water Lilies, Lotus Plants for ponds or have questions about getting the right Lotus Plant for your pond with the perfect Lotus Flower, please visit our full service Pond Supply and Pond Plants store or call Sunland Water Gardens @ 818-353-5131
Pond Supplies: Aquatic Plants: White Lotus: Yulou Renzui
Source: Sunland Water Gardens
Author: Jacklyn Rodman
Also See: Aquatic Plants; Water Lilies; Lotus Plants
Aquatic Plants / Lotus Plants For Sale / Lotus Flower
Areas we serve and more:
(Lotus Plants for Ponds – Lotus Plants For Sale)
Acton, CA

Agoura Hills, CA

Altadena, CA

Arcadia, CA

Bel Air, CA

Bellflower, CA

Beverly hills, CA

Calabasas, CA

Canoga Park, CA

Century City, CA

Chatsworth, CA

East Los Anggeles

Encino, CA
Glendale, CA

Granada hills, CA

Hollywood Hills, CA

Hollywood, CA

La canada, CA

La Crescenta, CA

Lancaster, CA

Los Angeles County

Los Angeles, CA

Malibu, CA

Manhattan Beach, CA

Montrose, CA

North Hollywood, CA
North Los Angeles

Paramount, CA

Pasadena, CA

Porter Ranch, CA

Reseda, CA

San Fernando Valley

San Fernando, CA

San Marino, CA

Santa Clarita, CA

Santa Monica, CA

Sherman Oaks, CA

Simi Valley, CA

South Los Angeles
South Pasadena, CA

Studio City, CA

Sun Valley, CA

Sunland, CA

Sylmar, CA

Thousand Oaks, CA

Toluca Lake, CA

Torrance, CA

Ventura, CA

West Hills, CA

West Hollywood, CA

West Los Angeles

Westlake Village, CA

Woodland Hills, CA
Sunland Water Gardens – Your Pond Supplier since 1965.
A leader in Pond Plants – A Grower of Lotus Plants  for Ponds!
Contact the pond Aquatic Plants experts today at (818) 353-5131.
Sunland Water Gardens
Aquatic Plants - Lotus Plants - Lotus Flower - Pond Supplies
9948 Sunland Blvd
Sunland
,
CA
91040
(818) 353-5131
Aquatic Plants / Lotus Plants For Sale / Lotus Flower
Aquatic Plants: White Lotus: Yulou Renzui