Pond Supplies: Pond treatment: Bio Sludge Control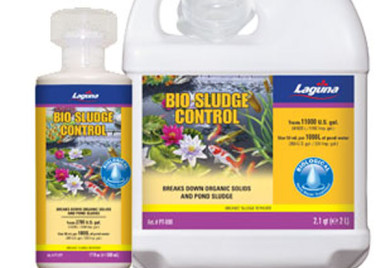 Pond Supplies
Pond treatment: Bio Sludge Control
Laguna products are designed with the Koi pond as well as the garden pond owner in mind.
Laguna Bio sludge control
Bio sludge control is  easy to use and does exactly as it is suppose to at an economical price.
Fish and other pond inhabitants generate large quantities of organic waste. If left untreated, this waste will accumulate faster and create toxic conditions.  Laguna Bio Sludge Control is a living preparation designed to eliminate sludge and organic waste from pond surfaces. The micro-organisms found in Bio Sludge Control efficiently solubilize solid wastes, reducing them dramatically. This product will make it easier to maintain your Koi pond reducing the need to completely clean out it out.
 Breaks down organic solids and pond sludge.

 Benefits the entire pond environment.

 Safe for fish and plants.

 Instantly activated.
Laguna Bio Sludge Control comes in two sizes
PT-885   –  8 fl oz (240 ml)
PT-888  –   67 fl oz (2 L)

If you have any questions about Pond Care or the right Pond Water Treatments that will help your pond fish or what pond fish medication is best for your pond fish or have questions about getting safe pond chemicals for your pond, please visit our full service Pond Supply and Pond Maintenance store or call Sunland Water Gardens @ 818-353-5131
Pond Care: Pond Supplies: Pond treatment: Bio Sludge Control
Source: Sunland Water Gardens
Author: Jacklyn Rodman
Also See: Pond Care; Pond Maintenance; Pond Water Treatments

Pond Care / Pond Maintenance / Pond Water Treatments
Areas we serve and more:
Pond Care / Pond Maintenance / Pond Water Treatments 
Acton, CA

Agoura Hills, CA

Altadena, CA

Arcadia, CA

Bel Air, CA

Bellflower, CA

Beverly hills, CA

Calabasas, CA

Canoga Park, CA

Century City, CA

Chatsworth, CA

East Los Angeles

Encino, CA
Glendale, CA

Granada hills, CA

Hollywood Hills, CA

Hollywood, CA

La canada, CA

La Crescenta, CA

Lancaster, CA

Los Angeles County

Los Angeles, CA

Malibu, CA

Manhattan Beach, CA

Montrose, CA

North Hollywood, CA
North Los Angeles

Paramount, CA

Pasadena, CA

Porter Ranch, CA

Reseda, CA

San Fernando Valley

San Fernando, CA

San Marino, CA

Santa Clarita, CA

Santa Monica, CA

Sherman Oaks, CA

Simi Valley, CA

South Los Angeles
South Pasadena, CA

Studio City, CA

Sun Valley, CA

Sunland, CA

Sylmar, CA

Thousand Oaks, CA

Toluca Lake, CA

Torrance, CA

Ventura, CA

West Hills, CA

West Hollywood, CA

West Los Angeles

Westlake Village, CA

Woodland Hills, CA

Pond Care / Pond Maintenance / Pond Water Treatment
Sunland Water Gardens – Your Pond Supplier since 1965.
A leader in Pond Care – Experts in Pond Maintenance!
Contact the pond experts today at

 (818) 353-5131.
Sunland Water Gardens
POND CARE / POND MAINTENANCE / POND WATER TREATMENT
9948 Sunland Blvd
Sunland
,
CA
91040
(818) 353-5131
Pond Care / Pond Maintenance / Pond Water Treatment
Pond Care:
Pond Supplies: Pond treatment:
Luguna Bio Sludge Control