Pond Supplies: Fish Medication: Tetra Pond Koi and Goldfish Treatment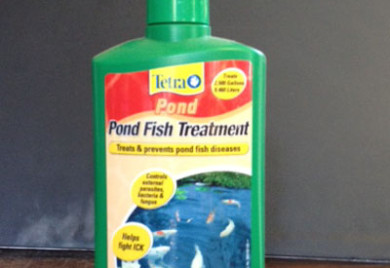 Pond Supplies: Fish Medication
Tetra Pond Koi and Goldfish Treatment
Keeping your Koi and pond fish healthy is important. Whether you are bringing a new fish home or are starting to see signs of a disease in your pond.   Tetra Koi and goldfish treatment is a good answer for the pond owner to use to combat external fish issues. Used as directed in is safe for all pond fish and will not harm your Pond plants.
Treats Koi and Goldfish infected by protozoan parasites including Ichthyopthirius Multifilis (ick or white spot), Costia, Chilodonella, and Trichondina.  Treats and prevents pond fish diseases. Controls external parasites, bacteria, and fungi that can cause infection
Tetra is the worlds top authority on water treatment needs for your Koi pond or water garden. Tetra has a long history of great products to help you maintain your pond, keeping your Koi and other pond fish happy and healthy

If you have any questions about Pond Care or the right Pond Water Treatment that will help your pond fish or what pond fish medication is best for your pond fish or have questions about getting safe pond chemicals for your pond, please visit our full service Pond Supply and Pond Maintenance store or call Sunland Water Gardens @ 818-353-5131
Pond Care: Pond Supplies: Fish Medication: Tetra Pond Koi and Goldfish Treatment
Source: Sunland Water Gardens
Author: Jacklyn Rodman
Also See: Pond Care; Pond Maintenance; Pond Fish Medication

Pond Care / Pond Maintenance /  Pond Fish Medication
Areas we serve and more:
Pond Care / Pond Maintenance / Pond Fish Medication
Acton, CA

Agoura Hills, CA

Altadena, CA

Arcadia, CA

Bel Air, CA

Bellflower, CA

Beverly hills, CA

Calabasas, CA

Canoga Park, CA

Century City, CA

Chatsworth, CA

East Los Angeles

Encino, CA
Glendale, CA

Granada hills, CA

Hollywood Hills, CA

Hollywood, CA

La canada, CA

La Crescenta, CA

Lancaster, CA

Los Angeles County

Los Angeles, CA

Malibu, CA

Manhattan Beach, CA

Montrose, CA

North Hollywood, CA
North Los Angeles

Paramount, CA

Pasadena, CA

Porter Ranch, CA

Reseda, CA

San Fernando Valley

San Fernando, CA

San Marino, CA

Santa Clarita, CA

Santa Monica, CA

Sherman Oaks, CA

Simi Valley, CA

South Los Angeles
South Pasadena, CA

Studio City, CA

Sun Valley, CA

Sunland, CA

Sylmar, CA

Thousand Oaks, CA

Toluca Lake, CA

Torrance, CA

Ventura, CA

West Hills, CA

West Hollywood, CA

West Los Angeles

Westlake Village, CA

Woodland Hills, CA

Pond Care / Pond Maintenance / Pond Fish Medication
Sunland Water Gardens – Your Pond Supplier since 1965.
A leader in Pond Care – Experts in Pond Maintenance!
Contact the pond experts today at (818) 353-5131.
Sunland Water Gardens
POND CARE / POND MAINTENANCE / POND FISH MEDICATION
9948 Sunland Blvd
Sunland
,
CA
91040
(818) 353-5131
Pond Care / Pond Maintenance / Fish Medication
Pond Supplies: Fish Medication:
Tetra Pond Koi and Goldfish Treatment