Pond supplies: Algae control: Tetra Algae control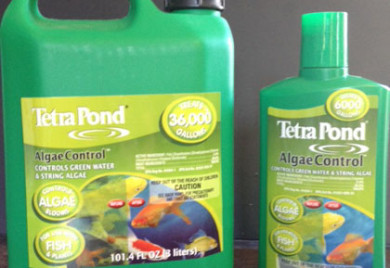 Pond supplies
Algae control: Tetra Algae control
Sometimes no matter how hard you try you can still get string algae and/or green water. You have the right filter and you clean the pond but you still need a little help.  Tetra Algae Control may be just the little push your koi pond needs to get back in shape. Use as directed to help eliminate algae. Will not harm your Aquatic plants or Pond fish.
Can be used with invertebrates as well.
Effective at combating algae blooms, string and hair algae, and blanket weed. For use in ponds with plants and fish. EPA registered
Tetra Algae Control
comes in 4 sizes
77185   – 100ml   ( treats 1250 gallons)

77186   – 8.4 oz    (treats 3000 gallons)

77187   –  16.9 oz  (treats 6000 gallons)

77188   –  3 liters  (treats 36,000 gallons)

If you have any questions about Pond Care or the right Pond Water Treatments that will help your pond fish or what pond fish medication is best for your pond fish or have questions about getting safe pond chemicals for your pond, please visit our full service Pond Supply and Pond Maintenance store or call Sunland Water Gardens @ 818-353-5131
Pond Care: Pond supplies: Algae control: Tetra Algae control
Source: Sunland Water Gardens
Author: Jacklyn Rodman
Also See: Pond Care; Pond Maintenance; Pond Water Treatments

Pond Care / Pond Maintenance / Pond Water Treatments
Areas we serve and more:
Pond Care / Pond Maintenance / Pond Water Treatments 
Acton, CA

Agoura Hills, CA

Altadena, CA

Arcadia, CA

Bel Air, CA

Bellflower, CA

Beverly hills, CA

Calabasas, CA

Canoga Park, CA

Century City, CA

Chatsworth, CA

East Los Angeles

Encino, CA
Glendale, CA

Granada hills, CA

Hollywood Hills, CA

Hollywood, CA

La canada, CA

La Crescenta, CA

Lancaster, CA

Los Angeles County

Los Angeles, CA

Malibu, CA

Manhattan Beach, CA

Montrose, CA

North Hollywood, CA
North Los Angeles

Paramount, CA

Pasadena, CA

Porter Ranch, CA

Reseda, CA

San Fernando Valley

San Fernando, CA

San Marino, CA

Santa Clarita, CA

Santa Monica, CA

Sherman Oaks, CA

Simi Valley, CA

South Los Angeles
South Pasadena, CA

Studio City, CA

Sun Valley, CA

Sunland, CA

Sylmar, CA

Thousand Oaks, CA

Toluca Lake, CA

Torrance, CA

Ventura, CA

West Hills, CA

West Hollywood, CA

West Los Angeles

Westlake Village, CA

Woodland Hills, CA

Pond Care / Pond Maintenance / Pond Water Treatment
Sunland Water Gardens – Your Pond Supplier since 1965.
A leader in Pond Care – Experts in Pond Maintenance!
Contact the pond experts today at

 (818) 353-5131.
Sunland Water Gardens
POND CARE / POND MAINTENANCE / POND WATER TREATMENT
9948 Sunland Blvd
Sunland
,
CA
91040
(818) 353-5131
Pond Care / Pond Maintenance / Pond Water Treatment
Pond Care:
Pond supplies: Algae control: Tetra Algae control