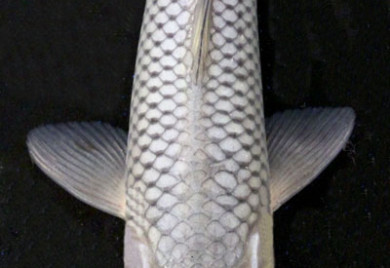 Koi
Soragoi
Soragoi, similar to Chagoi, are koi of a solid grey or silver color, combined with a subtle net pattern. Also like Chagoi, mature Soragoi are very docile and will be among the first koi in your pond to learn to hand feed.
Chagoi and Soragoi: Are they the same?
This is one of the questions that have been recently put to me; in fact Chagoi and Soragoi are separate types. Chagoi is a product of the Taisho Era, while Soragoi did not make its appearance until the Showa Period. However, the two are closely related.
Soragoi  belong to the Ogon group of koi, which appeared in the Showa Period (1926-1989). Soragoi is an abbreviation for Sora Ogon. Colouring ranges from a pale ultramarine to a deep sky-blue. Characteristically the scale edges are more pronounced than they are on the Chagoi. There can be shine (Hikari) on the top of the head and the fins, but this is not prominent.
Now Ogon was produced from Kin Kubuto, which was originally produced from Chagoi  so that Soragoi, which is an offshoot from Ogon, has Chagoi as its ancestor; this is why we can say that the two are closely related.
Variations of Soragoi include Gin Rin Soragoi and Doitsu Soragoi.
If you have any questions about Koi or Koi for sale please call
Sunland Water Gardens @ (818) 353-5131


KOI Type: Koi: Soragoi
Pond Supply/Pond Fish: KOI Fish For Ponds
Source: Sunland Water Gardens
Author: Jacklyn Rodman
Also See: Pond Fish; KOI

Areas we serve and more: (KOI Fish For Sale)
Agoura Hills

Altadena

Arcadia

Bel-Air

Bellflower

Beverly hills

Calabasas

Encino

Glendale

Hollywood
Hollywood Hills

La Canada

La Crescenta

Lancaster

Los Angeles

Los Angeles County

Malibu

Manhattan Beach

Montrose

North Hollywood
Paramount

Pasadena

Porter Ranch

San Fernando

San Marino

Santa Clarita

Santa Monica

Sherman Oaks

Simi Valley

South Pasadena
Studio City

Sun Valley

Sunland

Sylmar

Thousand Oaks

Torrance

Ventura

West Hills

West Hollywood

Westlake village

Woodland Hills
Sunland Water Gardens – Your Pond Supplier since 1965.
A leader in Pond Fish – A Leading Supplier of KOI For Ponds!
Contact the pond experts today at (818) 353-5131.
Sunland Water Gardens
Pond Supply - Pond Fish - KOI - KOI For Ponds - KOI Fish For Sale
9948 Sunland Blvd
Sunland
,
CA
91040
(818) 353-5131
Filed under: 
Koi Fish For Sale
Koi: Soragoi