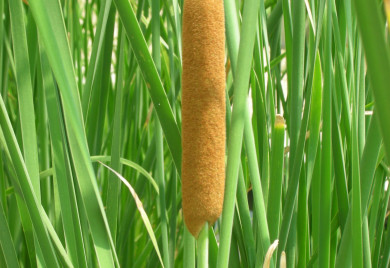 Bog Plants: Cattails
Cattails, like water lilies are the most classic and well known components of a fresh water eco-system. Dating back over 30,000 years, Cattails have thrived and continue to thrive in Europe and North America. They are considered a staple for your Koi pond or water garden. We carry many different varieties
Typha angustifolia –  narrow leaf cattail
Typha domingensis – bulrush, southern cattail (America), narrow-leaved cumbungi (Australia)
Typha × glauca (T. angustifolia × T. latifolia) – hybrid cattail, white cattail (a sterile hybrid[9])
Typha latifolia – common cattail
Typha laxmannii – Laxman's bulrush
Typha minima – dwarf catail
Typha orientalis – broadleaf cumbungi (Australia), raupo (New Zealand)
Typha capensis – Cape bulrush
Typha shuttleworthii – Shuttleworth's bulrush
We also carry a variegated variety that  has very beautiful cream and green blades. It's contrast is quite stunning.
Cattails Typha is a genus of about eleven species of monocotyledonous flowering plants in the family Typhaceae. The genus has a largely Northern Hemisphere distribution, but is essentially cosmopolitan, being found in a variety of wetland habitats Cattails are wetland plants with a unique flowering spike, flat blade like leaves that reach heights from 3 to 10 feet.  They are one of the most common plants in large marshes and on the edge of fish ponds. .
Under the right conditions, cattails can grow and spread vigorously.  The pollinated flowers develop into fluffy seed heads, blowing across a pond in autumn breezes.  Just as commonly, cattails spread through their root system.  The thick, white roots, called rhizomes, grow underground near the edge of ponds and in shallow swales.  As long as the water is not too deep, the cattails feast off the open sunshine and abundant water, storing a large amount of food in the root system.  In fact, cattails at the edge of pond can grow faster than fertilized corn in a field!  The dense foliage and debris from old growth makes it very difficult for competing plant species to grow.
Cattails prefer shallow, flooded conditions and easily get established along a pond shoreline or in waters one to 1.5 feet or less in depth. When unimpeded however,  the cattail beds will expand and can extend their hefty rhizomes well out into pond surface, actually floating above much deeper waters.  Cattails need to have "wet feet" during most of the growing season so never place it to deep in your lily or fish pond.
Many pond owners view cattails with uncertainty because they have a tendency to grow in thick, nearly impenetrable stands, blocking the view of open water and raising the concern that they will take over and cover a pond. Common Cattails are a familiar sight along the shore of any marsh, pond, lake, or river. They can even be found in ditches. If you have a small garden pond you may like to choose the mini cattail as they do not grow much taller than 12″.  Cattails are a choice for Koi pond owners as this aquatic plant is very tough and will not be nibbled on by your Koi.
Cattails are tall, stiff plants, growing almost ten feet tall. The leaves look like giant blades of grass, about one inch wide. The flower has two parts; a brown cylinder (the female part), and a yellow spike (the male part).

If you have any questions about other Aquatic Plants, Water Lilies, Bog Plants for ponds or have questions about getting the right Bog Plant for your pond, please visit our full service Pond Supply and Pond Plants store or call Sunland Water Gardens @ 818-353-5131
Areas we serve and more:
(Bog Plants for Sale / Bog Plants For Ponds / Cattails for sale)
Acton, CA

Agoura Hills, CA

Altadena, CA

Arcadia, CA

Bel Air, CA

Bellflower, CA

Beverly hills, CA

Calabasas, CA

Canoga Park, CA

Century City, CA

Chatsworth, CA

East Los Angeles

Encino, CA
Glendale, CA

Granada hills, CA

Hollywood Hills, CA

Hollywood, CA

La canada, CA

La Crescenta, CA

Lancaster, CA

Los Angeles County

Los Angeles, CA

Malibu, CA

Manhattan Beach, CA

Montrose, CA

North Hollywood, CA
North Los Angeles

Paramount, CA

Pasadena, CA

Porter Ranch, CA

Reseda, CA

San Fernando Valley

San Fernando, CA

San Marino, CA

Santa Clarita, CA

Santa Monica, CA

Sherman Oaks, CA

Simi Valley, CA

South Los Angeles
South Pasadena, CA

Studio City, CA

Sun Valley, CA

Sunland, CA

Sylmar, CA

Thousand Oaks, CA

Toluca Lake, CA

Torrance, CA

Ventura, CA

West Hills, CA

West Hollywood, CA

West Los Angeles

Westlake Village, CA

Woodland Hills, CA


Sunland Water Gardens
Bog Plants - Bog Plants for Ponds - Pond Supplies - Aquatic Plants - Aquatic Supplies
9948 Sunland Blvd
Sunland
,
CA
91040
(818) 353-5131
Sunland Water Gardens – Your Pond Supplier since 1965.
A leader in Aquatic Plants – A Grower of Bog Plants for Ponds!
Contact the pond experts today at (818) 353-5131.
Aquatic Plants / Bog Plants / Cattails for sale
Bog Plants: Cattails