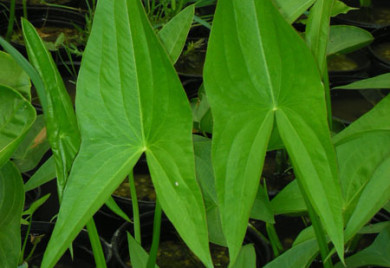 Bog plants: Arrowhead
Both Sagittaria latifolia and Sagittaria cuneata are aquatic plants growing in swampy ground or standing water in ponds. They can be planted by seed, bulb or division.  Like most aquatic bog plants Arrowsheads like to be in shallow water. Arrowheads are named so from the shape of the leaves which are of course a very large leaf with a pointed edge.
Arrowhead plants are the best way to make your Koi pond or water gardens look like a lush and tropical paradise. Perfect for any pond, Arrowheads grow in very shallow water and are not aggressive against other plants that might be thriving alongside it. Arrowheads also have small, attractive flowers that can bloom all summer long. The shape and color of Arrowheads can often help balance the amount of flowers and other vibrant plants in bloom.  Arrowheads have historically been a very important plant not only for it beauty but also as a food source.
After roasting, some tubers were dried and stored for winter use. The Chippewa gathered the "Indian potatoes" in the fall, strung them, and hung them overhead  in the wigwam to dry. Later they were boiled for use. The tubers of Sagittaria species were eaten by many different indigenous groups in Canada, as well as  many groups of Washington and Oregon The tubers were also widely traded from harvesting centers to neighboring areas.  The tubers were also a major item of commerce on the Lower Columbia in Chinook Territory. Medicinally, the Maidu of California used an infusion of arrowhead roots to clean and treat wounds. The Navajo use these plants for headaches. The Ojibwa and the Chippewa used Sagittaria species as a remedy for indigestion. The Cherokee used an infusion of leaves to bathe feverish babies, with one sip given orally. The Iroquois used it for rheumatism, a dermatological aid,  and a laxative. The Iroquois used it as a ceremonial blessing when they began planting corn. Lewis and Clark found it at the mouth of the Willamette and considered it equal to the potato, and valuable for trade. Indian women  collected it in shallow water from a canoe, Tubers are baked in fire embers, boiled, or roasted in the ashes. Tubers are skinned and eaten whole or mashed
Wildlife: Tubers are planted as an wildlife food. Ducks eat the small, flat seeds of arrowheads, but the tubers are the most valuable to wildlife. Muskrat and porcupine are known to eat the tubers. Swans, geese, wood ducks, blue-winged teal, lesser and greater scaup, ruddy duck, ring necked duck, pintail, mallard, mottled duck, gadwall, canvasback, black duck and king rail are known to eat arrowhead seeds and tubers. Even Koi have been known to nibble on the roots. For wildlife use,  the tubers of  Sagittaria latifolia are often too large and too deeply buried to be useful to ducks
For more information about this and other plants, please contact your local NRCS field office or Conservation District, and visit the PLANTS Web site or the Plant Materials Program Web site
resourse: USDA NRCS National Plant Data Center at (Web Site)

If you have any questions about other Aquatic Plants, Water Lilies, Bog Plants for ponds or have questions about getting the right Bog Plant for your pond, please visit our full service Pond Supply and Pond Plants store or call Sunland Water Gardens @ 818-353-5131
Areas we serve and more:
(Bog Plants for Sale / Bog Plants For Ponds)
Acton, CA

Agoura Hills, CA

Altadena, CA

Arcadia, CA

Bel Air, CA

Bellflower, CA

Beverly hills, CA

Calabasas, CA

Canoga Park, CA

Century City, CA

Chatsworth, CA

East Los Angeles

Encino, CA
Glendale, CA

Granada hills, CA

Hollywood Hills, CA

Hollywood, CA

La canada, CA

La Crescenta, CA

Lancaster, CA

Los Angeles County

Los Angeles, CA

Malibu, CA

Manhattan Beach, CA

Montrose, CA

North Hollywood, CA
North Los Angeles

Paramount, CA

Pasadena, CA

Porter Ranch, CA

Reseda, CA

San Fernando Valley

San Fernando, CA

San Marino, CA

Santa Clarita, CA

Santa Monica, CA

Sherman Oaks, CA

Simi Valley, CA

South Los Angeles
South Pasadena, CA

Studio City, CA

Sun Valley, CA

Sunland, CA

Sylmar, CA

Thousand Oaks, CA

Toluca Lake, CA

Torrance, CA

Ventura, CA

West Hills, CA

West Hollywood, CA

West Los Angeles

Westlake Village, CA

Woodland Hills, CA


Sunland Water Gardens
Bog Plants - Bog Plants for Ponds - Pond Supplies - Aquatic Plants - Aquatic Supplies
9948 Sunland Blvd
Sunland
,
CA
91040
(818) 353-5131
Sunland Water Gardens – Your Pond Supplier since 1965.
A leader in Aquatic Plants – A Grower of Bog Plants for Ponds!
Contact the pond experts today at (818) 353-5131.
Aquatic Plants / Bog Plants For Sale / Arrowhead 
Bog Plants: Arrowhead