Pond Maintenance: Power Control Center | Pond & Garden Protection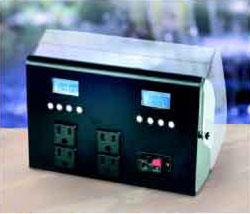 Pond Maintenance: Power Control Center
Pond & Garden Protection
Pond Protection
At last, a power control center that allows pond owners the flexibility of installing a pond where no electricity is near the pond or a great way of bringing all your electricial components together in one place.
The power control center is designed to be plugged into a 110v outlet, not hard wired. It comes with two digital timers, a heavy duty 15' 12-guage power cord, and fuse protection. The easy-to-set digital timers control line voltage and low voltage. One digital timer controls two 120v outlets while two 120v outlets supply constant power. A 12v low voltage outlet is controlled by the second digital timer. UL listed.
Dimensions: 8.25"W x 5"D x 6.5"H; 15' or 50' power cord
Input: 120V; 50/60Hz
Output 1: 120V, 60Hz, 5A max with timer I
Output 2: 120V, 60Hz, 5A max
Output 3: 12V AC, 150 Watts with timer II
Total Output 10A maximum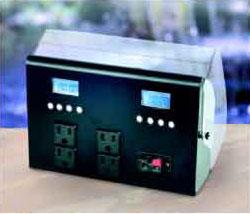 Filed under: Pond Supplies, Pond Care & Maintenance, Pond & Garden Protection, Pond Protection and Pond Maintenance

If you have any questions about other Pond Supplies, Pond Maintenance, or have questions about getting the right Pond & Garden Protection for your pond, please visit our full service Pond Supply store to learn more about Pond Maintenance or call Sunland Water Gardens @ 818-353-5131
Pond & Garden Protection: Power Control Center – Pond Protection
Source: Sunland Water Gardens
Author: Jacklyn Rodman
Learn more about:
Pond Supplies
Pond Maintenance
Pond Protection

---
Areas we serve and more:
Pond Maintenance – Pond Supplies
Agoura Hills

Altadena

Arcadia

Bel-Air

Bellflower

Beverly hills

Calabasas

Encino

Glendale

Hollywood
Hollywood Hills

La canada

La Crescenta

Lancaster

Los Angeles

Los Angeles County

Malibu

Manhattan Beach

Montrose

North Hollywood
Paramount

Pasadena

Porter Ranch

San Fernando

San Marino

Santa Clarita

Santa Monica

Sherman Oaks

Simi Valley

South Pasadena
Studio City

Sun Valley

Sunland

Sylmar

Thousand Oaks

Torrance

Ventura

West Hills

West Hollywood

Westlake village

Woodland Hills
Sunland Water Gardens – Your Pond Supplier since 1965.
A leader in Pond Maintenance – An expert in Pond Supplies for over 25 years
Contact the pond experts today at (818) 353-5131.
Filed under: Pond Supplies / Pond Maintenance / Pond & Garden Protection / Power Control Center / Pond Protection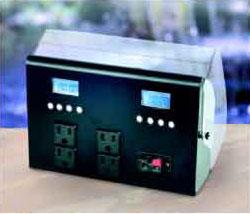 https://sunlandwatergardens.com
Pond & Garden Protection: Power Control Center – Pond Protection
Sunland Water Gardens
"Learn more about Power Control Center – Pond & Garden Protection – Pond Maintenance and Pond Maintenance at SunlandWaterGardens.com"
9948 Sunland Blvd
Sunland
,
CA
91040
(818) 353-5131
Also See: Pond Supplies – Pond Maintenance – Pond & Garden Protection – Pond Protection
Pond Supplies: https://sunlandwatergardens.com/pond-supplies/
Pond Maintenance: https://sunlandwatergardens.com/pond-supplies/pond-maintenance/
Pond Protection: https://sunlandwatergardens.com/swg_categories/pond-protection/