Pond Maintenance: PondCare Ammo-Lock | Pond Water Care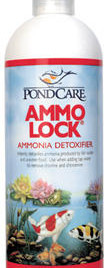 Pond Maintenance: PondCare Ammo-Lock
Pond Water Care
Chlorine/Ammonia Control
Instantly detoxifies ammonia (and removes chlorine and chloramine from city water) thereby promoting healthy gill function. 16oz treats 1920 gallons. If you have over-crowding in your pond resulting in high ammonia then use Ammo-Lock to safely neutralize the ammonia so it does not burn the gills of your fish.
NOTE: Although ammonia test kits will show positive results for ammonia when using Ammo-Lock, the product will neutralize the harmful effects to your fish and will hold the ammonia in a non-toxic form until your filter can convert and remove it. We recommend using an ammonia product like Microbelift Nite-Out II for rapid ammonia and nitrite reduction in conjunction with Ammo-Lock.
If you live in a city that treats its water, than you need Ammo-Lock. It Instantly removes chlorine and chloramine from city water.
If you have high ammonia test readings use Ammo-Lock
to detoxify harmful ammonia thereby promoting healthy gill function. Treats 960 gallons per 8 ounces
NOTE: Test results will not immediately change when you add Ammo-Lock but it has removed the harmful affects of ammonia giving your bio filter the time it needs to eliminate the problem.

Filed under: Pond Supplies, Pond Care & Maintenance, Water Care, Chlorine/Ammonia Control and Pond Maintenance

If you have any questions about other Pond Supplies, Pond Maintenance, or have questions about getting the right Pond Water Care for your pond, please visit our full service Pond Supply store to learn more about Pond Maintenance or call Sunland Water Gardens @ 818-353-5131
Pond Water Care: PondCare Ammo-Lock – Chlorine/Ammonia Control
Source: Sunland Water Gardens
Author: Jacklyn Rodman
Learn more about:
Pond Supplies
Pond Maintenance
Pond Water Care

---
Areas we serve and more:
Pond Maintenance – Pond Supplies
Agoura Hills

Altadena

Arcadia

Bel-Air

Bellflower

Beverly hills

Calabasas

Encino

Glendale

Hollywood
Hollywood Hills

La canada

La Crescenta

Lancaster

Los Angeles

Los Angeles County

Malibu

Manhattan Beach

Montrose

North Hollywood
Paramount

Pasadena

Porter Ranch

San Fernando

San Marino

Santa Clarita

Santa Monica

Sherman Oaks

Simi Valley

South Pasadena
Studio City

Sun Valley

Sunland

Sylmar

Thousand Oaks

Torrance

Ventura

West Hills

West Hollywood

Westlake village

Woodland Hills
Sunland Water Gardens – Your Pond Supplier since 1965.
A leader in Pond Maintenance – An expert in Pond Supplies for over 25 years
Contact the pond experts today at (818) 353-5131.
Filed under: Pond Supplies / Pond Maintenance / Pond Water Care / PondCare Ammo-Lock / Chlorine/Ammonia Control

https://sunlandwatergardens.com
Pond Water Care: PondCare Ammo-Lock – Chlorine/Ammonia Control
Sunland Water Gardens
"Learn more about PondCare Ammo-Lock – Pond Water Care – Pond Maintenance and Pond Maintenance at SunlandWaterGardens.com"
9948 Sunland Blvd
Sunland
,
CA
91040
(818) 353-5131
Also See: Pond Supplies – Pond Maintenance – Pond Water Care – Chlorine/Ammonia Control
Pond Supplies: https://sunlandwatergardens.com/pond-supplies/
Pond Maintenance: https://sunlandwatergardens.com/pond-supplies/pond-maintenance/
Pond Water Care: https://sunlandwatergardens.com/pond-water-care/