Pond Maintenance: Microbe-Lift Autumn/Winter Prep | Pond Water Care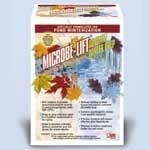 Pond Maintenance: Microbe-Lift Autumn/Winter Prep
Pond Water Care
Bacterial Products
Helps accelerate the decomposition of leaves, scum, sediment and other organic matter in the fall and winter.
Jump start your pond to a healthier environment in the spring. Helps to maintain a healthy immune system for your fish during the winter months; Reduces buildup of dead leaves and organic sediment all winter long; Two part system: 1 quart liquid bacteria and 2 two ounce water soluble packets of cellulose producing bacteria. Continues to provide biological activity in water temperatures under 55 degrees. If frozen, the bacteria will remain effective after thawing out; effective in darker conditions (under ice and snow) Continues to provide sustained biological activity even in water temperatures down to 40 F degrees
FOR APPLICATION RATES
Click "See Details"
See our other barley straw products and other pond water treatment products.
BASIC APPLICATION RATES: 80-200 gallons
4oz 1st month, 2 oz 2nd month 2 oz, 3rd month, 2 oz 4th mo.
201-500 gal 6oz 1st month, 3 oz 2nd month 3 oz, 3rd month, 3 oz 4th mo.
501-1000 gal 8oz 1st month, 4 oz 2nd month 4 oz, 3rd month, 4 oz 4th mo.
DURING THE SECOND MONTH, ADD ONE PACKET OF DRY ENZYMES FOR UP TO 1000 GALLONS.
~~~~~~~~~~~~~~~~~~~~~~~~~~~~~~~~~~~
1001-2500 gal 12oz 1st month, 6 oz 2nd month 6 oz, 3rd month, 6 oz 4th mo.
2501-5000 gal 16oz 1st month, 8 oz 2nd month 8 oz, 3rd month, 8 oz 4th mo.
5001-7500 gal 20oz 1st month, 10 oz 2nd month 10 oz, 3rd month, 10 oz 4th mo
7501-10,000 gal 24oz 1st month, 12 oz 2nd month 12 oz, 3rd month, 12 oz 4th mo
10,001-25,000 gal 48oz 1st month, 20 oz 2nd month 20 oz, 3rd month, 20 oz 4th mo
25,001-50,000 gal 64oz 1st month, 40oz 2nd month 40oz, 3rd month, 40oz 4th mo
50,001-100,000 1 gal 60oz 1st month, 60oz 2nd month 60oz 3rd month, 60oz 4th mo.
DURING THE SECOND MONTH, ADD TWO PACKETS OF DRY ENZYMES FOR PONDS OVER 1000 GALLONS.
This product has a 3 year estimated shelf life.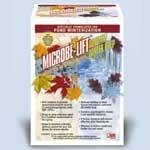 Filed under: Pond Supplies, Pond Care & Maintenance, Water Care, Bacterial Products and Pond Maintenance

If you have any questions about other Pond Supplies, Pond Maintenance, or have questions about getting the right Pond Water Care for your pond, please visit our full service Pond Supply store to learn more about Pond Maintenance or call Sunland Water Gardens @ 818-353-5131
Pond Water Care: Microbe-Lift Autumn/Winter Prep – Bacterial Products
Source: Sunland Water Gardens
Author: Jacklyn Rodman
Learn more about:
Pond Supplies
Pond Maintenance
Pond Water Care

---
Areas we serve and more:
Pond Maintenance – Pond Supplies
Agoura Hills

Altadena

Arcadia

Bel-Air

Bellflower

Beverly hills

Calabasas

Encino

Glendale

Hollywood
Hollywood Hills

La canada

La Crescenta

Lancaster

Los Angeles

Los Angeles County

Malibu

Manhattan Beach

Montrose

North Hollywood
Paramount

Pasadena

Porter Ranch

San Fernando

San Marino

Santa Clarita

Santa Monica

Sherman Oaks

Simi Valley

South Pasadena
Studio City

Sun Valley

Sunland

Sylmar

Thousand Oaks

Torrance

Ventura

West Hills

West Hollywood

Westlake village

Woodland Hills
Sunland Water Gardens – Your Pond Supplier since 1965.
A leader in Pond Maintenance – An expert in Pond Supplies for over 25 years
Contact the pond experts today at (818) 353-5131.
Filed under: Pond Supplies / Pond Maintenance / Pond Water Care / Microbe-Lift Autumn/Winter Prep / Bacterial Products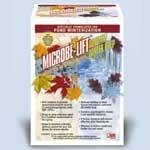 https://sunlandwatergardens.com
Pond Water Care: Microbe-Lift Autumn/Winter Prep – Bacterial Products
Sunland Water Gardens
"Learn more about Microbe-Lift Autumn/Winter Prep – Pond Water Care – Pond Maintenance and Pond Maintenance at SunlandWaterGardens.com"
9948 Sunland Blvd
Sunland
,
CA
91040
(818) 353-5131
Also See: Pond Supplies – Pond Maintenance – Pond Water Care – Bacterial Products
Pond Supplies: https://sunlandwatergardens.com/pond-supplies/
Pond Maintenance: https://sunlandwatergardens.com/pond-supplies/pond-maintenance/
Pond Water Care: https://sunlandwatergardens.com/pond-water-care/