Pond Maintenance: ClorAm-X Liquid | Pond Water Care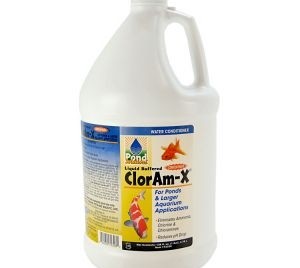 Pond Maintenance: ClorAm-X Liquid
Pond Water Care
Chlorine/Ammonia Control
Liquid Buffered ClorAm-X® utilizes a patented molecule to destroy chloramine and then removes the ammonia and chlorine. Gone are the days of hoping your biological filtration can remove the bound up ammonia before the health of your fish is impacted, a common process with most other ammonia removers. Look for the ClorAm-X® logo and USA patent number to prove you've chosen the leader in ammonia removal worldwide! gallon treats up to 11,520
Key Benefits
Destroys Chloramines
Removes Ammonia
Removes Chlorine
Won't Affect Dissolved Oxygen Levels
Reduces pH Drop
Makes A Safe Environment For Your Aquatic Pets
Non-Toxic To Humans, Pets & Aquatic Life
To remove and detoxify ammonia, chlorine and chloramines from water for aquariums or ponds, to condition new tap water or for chlorine and chloramine removal, add 1 teaspoonful (5 mL) of Liquid Buffered ClorAm-X® per 10 gallons of water.
To remove ammonia in existing aquariums or ponds add 1 teaspoonful of Liquid Buffered ClorAm-X® to each 10 gallons of water for each measured 1.0 mg/L of total ammonia (=0.85 mg/L total ammonia-nitrogen).
For protecting fish and aquatic invertebrates during shipping add 1 teaspoonful of Liquid Buffered ClorAm-X® to each 10 gallons of water for each expected 1.0 mg/L of total ammonia (=0.85 mg/L total ammonia-nitrogen). May be used at levels up to 10X the single dosage.
Recommendations Use ClorAm-X® as needed to eliminate and control ammonia at the regular dosage rate for each 1 mg/L, or fraction therefore of measured total ammonia or for each 0.85 mg/L of measured total ammonia-nitrogen.
Contraindications Do not use with permanganate-based or chlorite-based treatments. Nessler's total ammonia test will give false, high (or off scale) readings. Winkler dissolved oxygen tests will give false, low (or zero) readings.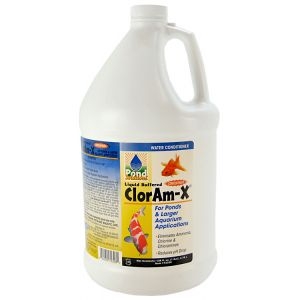 Filed under: Pond Supplies, Pond Care & Maintenance, Water Care, Chlorine/Ammonia Control and Pond Maintenance

If you have any questions about other Pond Supplies, Pond Maintenance, or have questions about getting the right Pond Water Care for your pond, please visit our full service Pond Supply store to learn more about Pond Maintenance or call Sunland Water Gardens @ 818-353-5131
Pond Water Care: ClorAm-X Liquid – Chlorine/Ammonia Control
Source: Sunland Water Gardens
Author: Jacklyn Rodman
Learn more about:
Pond Supplies
Pond Maintenance
Pond Water Care

---
Areas we serve and more:
Pond Maintenance – Pond Supplies
Agoura Hills

Altadena

Arcadia

Bel-Air

Bellflower

Beverly hills

Calabasas

Encino

Glendale

Hollywood
Hollywood Hills

La canada

La Crescenta

Lancaster

Los Angeles

Los Angeles County

Malibu

Manhattan Beach

Montrose

North Hollywood
Paramount

Pasadena

Porter Ranch

San Fernando

San Marino

Santa Clarita

Santa Monica

Sherman Oaks

Simi Valley

South Pasadena
Studio City

Sun Valley

Sunland

Sylmar

Thousand Oaks

Torrance

Ventura

West Hills

West Hollywood

Westlake village

Woodland Hills
Sunland Water Gardens – Your Pond Supplier since 1965.
A leader in Pond Maintenance – An expert in Pond Supplies for over 25 years
Contact the pond experts today at (818) 353-5131.
Filed under: Pond Supplies / Pond Maintenance / Pond Water Care / ClorAm-X Liquid / Chlorine/Ammonia Control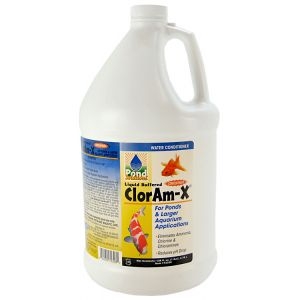 https://sunlandwatergardens.com
Pond Water Care: ClorAm-X Liquid – Chlorine/Ammonia Control
Sunland Water Gardens
"Learn more about ClorAm-X Liquid – Pond Water Care – Pond Maintenance and Pond Maintenance at SunlandWaterGardens.com"
9948 Sunland Blvd
Sunland
,
CA
91040
(818) 353-5131
Also See: Pond Supplies – Pond Maintenance – Pond Water Care – Chlorine/Ammonia Control
Pond Supplies: https://sunlandwatergardens.com/pond-supplies/
Pond Maintenance: https://sunlandwatergardens.com/pond-supplies/pond-maintenance/
Pond Water Care: https://sunlandwatergardens.com/pond-water-care/