Pond Supplies: Pond treatment: Tetra Aqua safe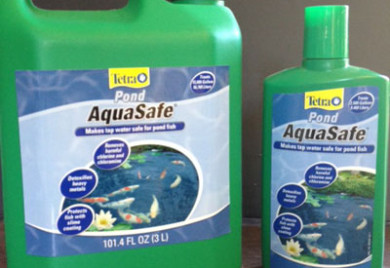 Pond Supplies
Pond treatment: Tetra Aqua safe
If you have Koi or other Pond fish in your pond this is the most important product you will need. It is not your grandmothers water supply anymore! California uses not only chlorine but Chloramine that is a combination of chlorine and ammonia. It will never evaporate like chlorine can. Both chlorine and Chloramine will damage your Koi and pond fish gills and they will die.  Just use Aqua safe as directed and your water will be safe for all your fish in minutes. Always remember to use Aqua safe every time you add even the smallest amount of water to your pond.
Pond tip: only treat the amount of water you are adding. For example if your pond is 200 gallons and you add 15 gallons of tap water only add enough Aqua safe to treat the 15 gallons of water.
Essential for all pond keepers! Normal tap water contains chemicals and metals that can harm pond fish. AquaSafe® quickly eliminates chlorine and chloramines, and neutralizes heavy metals.  It also provides a protective colloid coating for fish. Reformulated for today's municipal water
Tetra Aqua Safe comes in three sizes
16253    –   8.4 oz
16267    –   16.9 oz
16275    –    3 liters

If you have any questions about Pond Care or the right Pond Water Treatments that will help your pond fish or what pond fish medication is best for your pond fish or have questions about getting safe pond chemicals for your pond, please visit our full service Pond Supply and Pond Maintenance store or call Sunland Water Gardens @ 818-353-5131
Pond Care: Pond Supplies: Pond treatment: Tetra Aqua safe
Source: Sunland Water Gardens
Author: Jacklyn Rodman
Also See: Pond Care; Pond Maintenance; Pond Water Treatments

Pond Care / Pond Maintenance / Pond Water Treatments
Areas we serve and more:
Pond Care / Pond Maintenance / Pond Water Treatments 
Acton, CA

Agoura Hills, CA

Altadena, CA

Arcadia, CA

Bel Air, CA

Bellflower, CA

Beverly hills, CA

Calabasas, CA

Canoga Park, CA

Century City, CA

Chatsworth, CA

East Los Angeles

Encino, CA
Glendale, CA

Granada hills, CA

Hollywood Hills, CA

Hollywood, CA

La canada, CA

La Crescenta, CA

Lancaster, CA

Los Angeles County

Los Angeles, CA

Malibu, CA

Manhattan Beach, CA

Montrose, CA

North Hollywood, CA
North Los Angeles

Paramount, CA

Pasadena, CA

Porter Ranch, CA

Reseda, CA

San Fernando Valley

San Fernando, CA

San Marino, CA

Santa Clarita, CA

Santa Monica, CA

Sherman Oaks, CA

Simi Valley, CA

South Los Angeles
South Pasadena, CA

Studio City, CA

Sun Valley, CA

Sunland, CA

Sylmar, CA

Thousand Oaks, CA

Toluca Lake, CA

Torrance, CA

Ventura, CA

West Hills, CA

West Hollywood, CA

West Los Angeles

Westlake Village, CA

Woodland Hills, CA

Pond Care / Pond Maintenance / Pond Water Treatment
Sunland Water Gardens – Your Pond Supplier since 1965.
A leader in Pond Care – Experts in Pond Maintenance!
Contact the pond experts today at

 (818) 353-5131.
Sunland Water Gardens
POND CARE / POND MAINTENANCE / POND WATER TREATMENT
9948 Sunland Blvd
Sunland
,
CA
91040
(818) 353-5131
Pond Care / Pond Maintenance / Pond Water Treatment
Pond Care:
Pond Supplies: Pond treatment: Tetra Aqua safe