Pond Supplies: Fish medication: Crystal clear Wipeout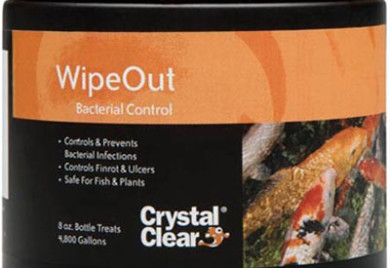 Pond Supplies: Fish medication
Crystal clear Wipeout
WipeOut is excellent for controlling gill diseases in pond fish and Koi. Bacterial diseases generally result from fish stress due to adverse water quality conditions such as (pH, oxygen or temperature problems), dirty ponds, untreated abrasions or even predators. WipeOut works extremely well on pond fish species such as koi and goldfish
WipeOut – Bacterial Control Controls & Prevents Bacterial Infections Controls Fin rot & Ulcers Safe For Fish & Plants
It is quite common for bacterial diseases to start in the spring when the weather starts to warm up. Be sure to clean your pond and pond filter to help to prevent these and many other common pond issue.

If you have any questions about Pond Care or the right Pond Water Treatment that will help your pond fish or what pond fish medication is best for your pond fish or have questions about getting safe pond chemicals for your pond, please visit our full service Pond Supply and Pond Maintenance store or call Sunland Water Gardens @ 818-353-5131
Pond Care: Pond Supplies: Fish medication: Crystal clear Wipeout
Source: Sunland Water Gardens
Author: Jacklyn Rodman
Also See: Pond Care; Pond Maintenance; Pond Fish Medication

Pond Care / Pond Maintenance /  Pond Fish Medication
Areas we serve and more:
Pond Care / Pond Maintenance / Pond Fish Medication
Acton, CA

Agoura Hills, CA

Altadena, CA

Arcadia, CA

Bel Air, CA

Bellflower, CA

Beverly hills, CA

Calabasas, CA

Canoga Park, CA

Century City, CA

Chatsworth, CA

East Los Angeles

Encino, CA
Glendale, CA

Granada hills, CA

Hollywood Hills, CA

Hollywood, CA

La canada, CA

La Crescenta, CA

Lancaster, CA

Los Angeles County

Los Angeles, CA

Malibu, CA

Manhattan Beach, CA

Montrose, CA

North Hollywood, CA
North Los Angeles

Paramount, CA

Pasadena, CA

Porter Ranch, CA

Reseda, CA

San Fernando Valley

San Fernando, CA

San Marino, CA

Santa Clarita, CA

Santa Monica, CA

Sherman Oaks, CA

Simi Valley, CA

South Los Angeles
South Pasadena, CA

Studio City, CA

Sun Valley, CA

Sunland, CA

Sylmar, CA

Thousand Oaks, CA

Toluca Lake, CA

Torrance, CA

Ventura, CA

West Hills, CA

West Hollywood, CA

West Los Angeles

Westlake Village, CA

Woodland Hills, CA

Pond Care / Pond Maintenance / Pond Fish Medication
Sunland Water Gardens – Your Pond Supplier since 1965.
A leader in Pond Care – Experts in Pond Maintenance!
Contact the pond experts today at (818) 353-5131.
Sunland Water Gardens
POND CARE / POND MAINTENANCE / POND FISH MEDICATION
9948 Sunland Blvd
Sunland
,
CA
91040
(818) 353-5131
Pond Care / Pond Maintenance / Fish Medication
Pond Supplies: Fish medication:
Crystal clear Wipeout