Pond Filters: Matala Biosteps 10 Filter | Miscellaneous Filters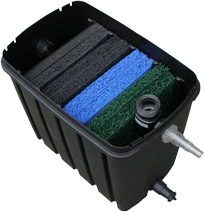 Pond Filters: Matala Biosteps 10 Filter
Miscellaneous Filters
Pond Supplies
The Biosteps Gravity filter by Matala contains an amazing 200 sq. ft. of surface area for beneficial bacterial growth. Combined that with a cross flow design that traps and processes more debris at high flow rates and you get unparalleled mechanical and biological filtration for superior water quality. For ponds up to 2700 gallons.
State of the Arts Progressive Filtration design enhances growth of different ecological communities of bacteria and planktonic organisms that colonize in different sections of the filter. Flow rate 1060 gph max. Built-in overflow for safety. Easy to maintain. Easily combine multiple units for large or heavily stocked koi ponds, or use Biosteps 10 with optional UV Clarifier for improved water clarity.
Universal barbed inlet (1", 1-1/4", 1-1/2"), 1-1/2" outlet. Measures 23-3/16" x 15" x 20-3/16" high.
Ships UPS Oversize
Biosteps Manual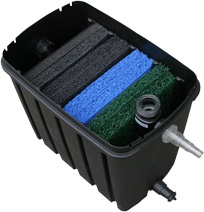 Filed under: Pond Supplies, Pumps & Filters, Pond Filters, Miscellaneous Filters and Pond Pumps & Pond Filters

If you have any questions about other Pond Supplies, Pond Pumps & Pond Filters, or have questions about getting the right Pond Filters for your pond, please visit our full service Pond Supply store to learn more about Pond Pumps & Pond Filters or call Sunland Water Gardens @ 818-353-5131
Pond Filters: Matala Biosteps 10 Filter – Miscellaneous Filters
Source: Sunland Water Gardens
Author: Jacklyn Rodman
Learn more about:
Pond Lights: https://sunlandwatergardens.com/pond-supplies/pond-lights/
Pond Filters: https://sunlandwatergardens.com/pond-supplies/filters/
Pond Supplies: https://sunlandwatergardens.com/pond-supplies/
---
Also See: Pond Supplies – Pond Pumps & Pond Filters – Pond Filters – Miscellaneous Filters –
Areas we serve and more:
(Pond Pumps & Pond Filters – )
Agoura Hills

Altadena

Arcadia

Bel-Air

Bellflower

Beverly hills

Calabasas

Encino

Glendale

Hollywood
Hollywood Hills

La canada

La Crescenta

Lancaster

Los Angeles

Los Angeles County

Malibu

Manhattan Beach

Montrose

North Hollywood
Paramount

Pasadena

Porter Ranch

San Fernando

San Marino

Santa Clarita

Santa Monica

Sherman Oaks

Simi Valley

South Pasadena
Studio City

Sun Valley

Sunland

Sylmar

Thousand Oaks

Torrance

Ventura

West Hills

West Hollywood

Westlake village

Woodland Hills
Sunland Water Gardens – Your Pond Supplier since 1965.
A leader in Pond Pumps & Pond Filters – An expert in Pond Supplies for over 25 years
Contact the pond experts today at (818) 353-5131.
Filed under: Pond Supplies / Pond Pumps & Pond Filters / Pond Filters / Matala Biosteps 10 Filter / Miscellaneous Filters
Matala Biosteps 10 Filter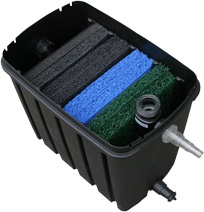 Product description:
Pond Filters: Matala Biosteps 10 Filter | Miscellaneous Filters
https://sunlandwatergardens.com
Pond Filters: Matala Biosteps 10 Filter – Miscellaneous Filters
Sunland Water Gardens
"Learn more about Matala Biosteps 10 Filter – Pond Filters – Pond Pumps & Pond Filters and Pond Pumps & Pond Filters at SunlandWaterGardens.com"
9948 Sunland Blvd
Sunland
,
CA
91040
(818) 353-5131