Bog Plants: Golden Button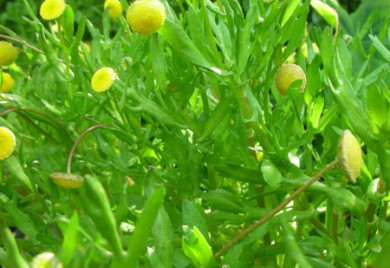 Bog Plants: Golden Button
Many people really enjoy this aquatic plant because it blooms and adds so much color to your pond. The Golden Button, or Tansy plant, is native to parts of Europe and Asia and are characterized by their distinctly round pads of flowers. The small marsh flower Cotula coronopifolia (also spelled C. coronipifolia) bears the common names brass buttons, golden buttons, and buttonweed. The flowers are bright yellow discoid inflorescences that look like thick buttons. Individual plants spread stems along the ground and send up the knobby
flowers at intervals. The pond plant is native to southern Africa, but it has been introduced to many regions of the world. Brass buttons are common bog plants that occupy a specialized ecological niche. They prefer muddy, anoxic wetlands and brackish water. They are very salt-tolerant.
The plant has fat, fleshy leaves that store water during times of saline inundation. The reddish stems and green, blade-shaped leaves are coated with a shiny
cuticle to retain moisture. It can also be found in the wetter patches in vernal pond ecosystems. Brass buttons are common along the beaches, salt marshes, Koi ponds and
estuaries from California to Washington.
Caution: Golden Buttons should be used in moderation if critters or other animals circulate your pond, as they are known to be toxic if ingested in large quantities.

If you have any questions about other Aquatic Plants, Water Lilies, Bog Plants for ponds or have questions about getting the right Bog Plant for your pond, please visit our full service Pond Supply and Pond Plants store or call Sunland Water Gardens @ 818-353-5131
Areas we serve and more:
(Bog Plants for Sale / Bog Plants For Ponds)
Acton, CA

Agoura Hills, CA

Altadena, CA

Arcadia, CA

Bel Air, CA

Bellflower, CA

Beverly hills, CA

Calabasas, CA

Canoga Park, CA

Century City, CA

Chatsworth, CA

East Los Angeles

Encino, CA
Glendale, CA

Granada hills, CA

Hollywood Hills, CA

Hollywood, CA

La canada, CA

La Crescenta, CA

Lancaster, CA

Los Angeles County

Los Angeles, CA

Malibu, CA

Manhattan Beach, CA

Montrose, CA

North Hollywood, CA
North Los Angeles

Paramount, CA

Pasadena, CA

Porter Ranch, CA

Reseda, CA

San Fernando Valley

San Fernando, CA

San Marino, CA

Santa Clarita, CA

Santa Monica, CA

Sherman Oaks, CA

Simi Valley, CA

South Los Angeles
South Pasadena, CA

Studio City, CA

Sun Valley, CA

Sunland, CA

Sylmar, CA

Thousand Oaks, CA

Toluca Lake, CA

Torrance, CA

Ventura, CA

West Hills, CA

West Hollywood, CA

West Los Angeles

Westlake Village, CA

Woodland Hills, CA


Sunland Water Gardens
Bog Plants - Bog Plants for Ponds - Pond Supplies - Aquatic Plants - Aquatic Supplies
9948 Sunland Blvd
Sunland
,
CA
91040
(818) 353-5131
Sunland Water Gardens – Your Pond Supplier since 1965.
A leader in Aquatic Plants – A Grower of Bog Plants for Ponds!
Contact the pond experts today at (818) 353-5131.
Aquatic Plants / Bog Plants For Sale / Bog Plants: Golden Button
Bog Plants: Golden Button