Pond Fish Supplies: KoiZyme | Pond Fish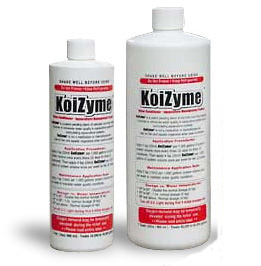 Pond Fish Supplies: KoiZyme
Pond Fish Health Care
Miscellaneous Pond Fish Supplies
Koizyme is a biological formula of naturally occurring bacteria, enzymes and micro nutrients. When Koizyme is introduced into pond water that is infected with Aeromonas, Pseudomonas or any gram negative or gram positive bacteria, the bacteria and enzymes in Koizyme competes with these pathogens for the nutrients in the pond water. These nutrients are primarily a nitrogen based nutrient from fish waste. Koizyme will consume these nutrients and starve Aeromonas and Psuedomonas. The bacteria counts (CFU's) of these pathogens will then be reduced to such a low level that they will not have an affect on the fish.
When used as directed, Koizyme will reduce the bacterial count of Aeromonas, Pseudomonas and other pathnogenetic bacteria to such low levels that they will not be a threat to the health of your fish.
We recommend that you select 2 DAY AIR to ship this product during the hot summer months as it is affected by the heat. Shelf life 4 months at room temperature or 15 months when refrigerated.
Application Procedures:Apply 4 tsp (20ml) per 1000 gallons of pond every three days for three treatments. Then apply 4 tsp (20ml) per 1000 gallons once per week for two weeks.
Double dosage when water temps are 50-62 degrees
1.5 dosage 63-68 degrees
69 degrees and above normal dosage
Quart treats 48-96,000 gallons
Pint treats 24-48,000 gallons
8oz treats 12-24,000 gallons
See our other barley straw products and other pond water treatment products.
Pond Maintenance Tips
This is a great product for over stocked ponds, especially in Spring and Fall when your Koi are most suseptible to Aerononas.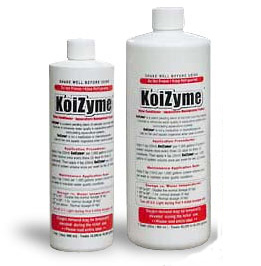 Filed under: Pond Supplies, Fish Care, Fish Health Care, Miscellaneous and Pond Fish

If you have any questions about other Pond Fish Supplies, Pond Fish Care, or have questions about getting the right Pond Fish Health Care for your pond, please visit our full service Pond Supply store to learn more about Pond Fish or call Sunland Water Gardens @ 818-353-5131
Pond Fish Supplies: KoiZyme – Pond Fish
Source: Sunland Water Gardens
Author: Jacklyn Rodman – SunlandWaterGardens.com the Pond Fish Experts
Learn more about:
Pond Fish For Sale: http://sunlandwatergardens.com/pond-fish/
Pond Fish Supplies: http://sunlandwatergardens.com/pond-fish/pond-fish-supplies/
Pond Fish Medications: http://sunlandwatergardens.com/pond-supplies/fish-medications/
Pond Supplies: http://sunlandwatergardens.com/pond-supplies/
---
Also See: Pond Fish Supplies – Pond Fish Care – Pond Fish Health Care – Miscellaneous Pond Fish Supplies – Pond Fish
Areas we serve and more:
(Pond Fish Supplies – Miscellaneous Pond Fish Supplies – Pond Fish Care
Agoura Hills

Altadena

Arcadia

Bel-Air

Bellflower

Beverly hills

Calabasas

Encino

Glendale

Hollywood
Hollywood Hills

La canada

La Crescenta

Lancaster

Los Angeles

Los Angeles County

Malibu

Manhattan Beach

Montrose

North Hollywood
Paramount

Pasadena

Porter Ranch

San Fernando

San Marino

Santa Clarita

Santa Monica

Sherman Oaks

Simi Valley

South Pasadena
Studio City

Sun Valley

Sunland

Sylmar

Thousand Oaks

Torrance

Ventura

West Hills

West Hollywood

Westlake village

Woodland Hills
Sunland Water Gardens – Your Pond Supplier since 1965.
A leader in Pond Fish – An expert in Pond Fish Care for over 25 years
Contact the Pond Fish experts today at (818) 353-5131.
Filed under: Pond Fish Supplies / Pond Fish Care / Pond Fish Health Care / Pond Fish / Miscellaneous Pond Fish Supplies
KoiZyme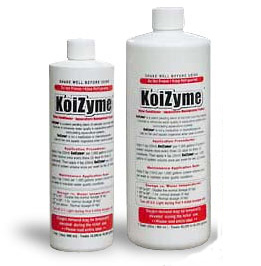 Product description:
Pond Fish Supplies: KoiZyme – Pond Fish
http://www.sunlandwatergardens.com
Pond Fish Supplies: KoiZyme – Pond Fish
Sunland Water Gardens
"Learn more about KoiZyme – Pond Fish Health Care – Pond Fish Care – Pond Fish Care and Pond Fish at SunlandWaterGardens.com"
9948 Sunland Blvd
Sunland
,
CA
91040
(818) 353-5131